Reunion With Madame Zhong

May 25, 2002

Cleveland, Ohio

On Memorial Day weekend 2002, Maoming Families had a once-in-a-lifetime opportunity when European Adoption Consultants agreed to sponsor Madame Zhong for a trip to the U.S. (at the urging of Jane Kuzma EAC client and Maomingster parent).  Jane, along with Chris Chandler, put the gathering together with the help of other MWI parents and EAC staff.  They did not have a lot of notice about the date of Madame Zhong's arrival but still managed to pull together a wonderful two-hour get-together with Madame Zhong and over 100 Maoming family members in attendance. 

The two Maomingster Moms, Jane and Chris, contacted MWI families by using the Maoming Directory and the MWI YahooGroup.  It was decided that the group would present Madame Zhong with a charm bracelet and photo album.  Several families sent pictures, letters and charms.  Jane and Chris both worked diligently to assemble an album of all the pictures and letters sent in by MWI families...it turned out beautifully!  The charm bracelet (along with a card in Chinese hand-made by Chris) was presented to Madame Zhong at the party!  Jane added each charm and they have been soldered by a jeweler.  Madame Zhong will leave the states with her completed bracelet!
At the gathering, there were pre-made name-tags for each family who had RSVP'ed and lovely poster display boards with photos of MWI (thanks Chris!).  Madame Zhong kindly brought prints of MWI to share with families.  As with any gathering...there was FOOD!  Cheese, veggies, dips, crackers, fruits, cookies, drinks.  Madame Zhong was able to meet and greet each child and family one-on-one and we were able to have our photograph taken with her.  It was such fun as she remembered our children and related a memory or two about each child.  (Her recollection of Mao Xiao Chai was that she "remembers holding her a lot"!)

Below are some photos of the reunion with Madame Zhong.  It was an emotional and wonderful day!!  If you have photos from this reunion that you would like to share, please email Ashley at maomingmom@swbell.net and they will be added!  Thanks!
This page was last updated on: June 1, 2007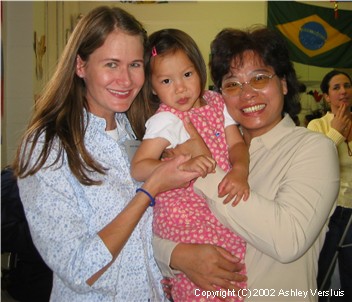 Ashley and Ellie (Mao Xiao Chai) with Madame Zhong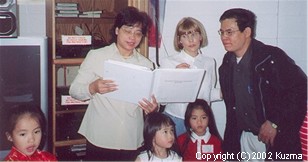 Madame Zhong, Jane K., Zhou (with EAC) as Madame Zhong looks through the "charm book" which includes family letters and descriptions of the charms.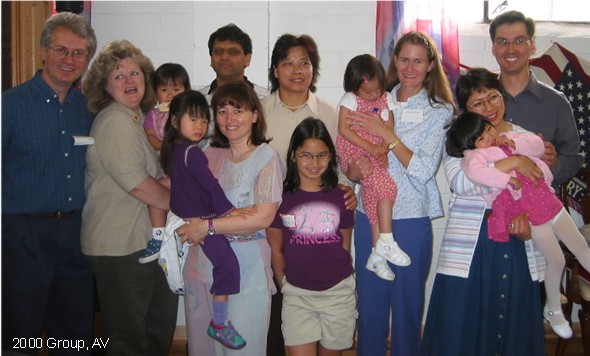 Children who were adopted from Maoming in 2000.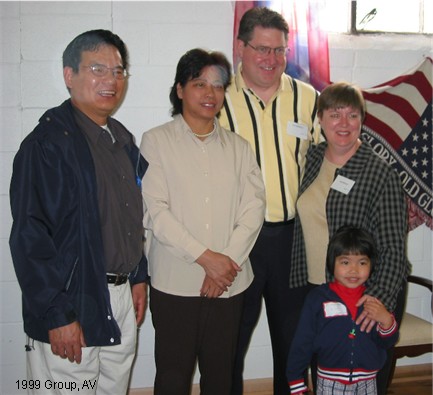 Children who were adopted from Maoming in 1999.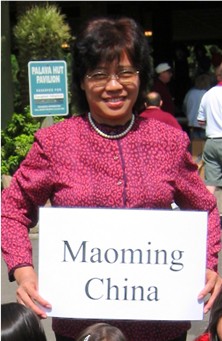 http://www.Maoming.homestead.com

Created and maintained by Ashley, mom to Mao Xiao Chai
(C) 2004 Photos and Content